3D printing has emerged itself as one of the fastest-growing industry in the world, and by seeing its exponential growth, more and more brands are now introducing 3D printers with different qualities and features.
Not all 3D printers are the same; each one has distinct characteristics and functions, however finding the most suitable, reliable and quality 3D printer is a challenging task as there are printers available which, despite being expensive, does not deliver the expected quality and efficiency.
As a result, choosing the best 3D printer becomes much more difficult. Having said that, there are a few brands that can be trusted wholeheartedly because they have maintained a reputation by providing excellent quality products to the customers. Consistency is what makes you well-known, and Creality is one of them.
Creality is one of the major producers and suppliers of 3D printers, and they are famous for giving exceptional quality at a low cost.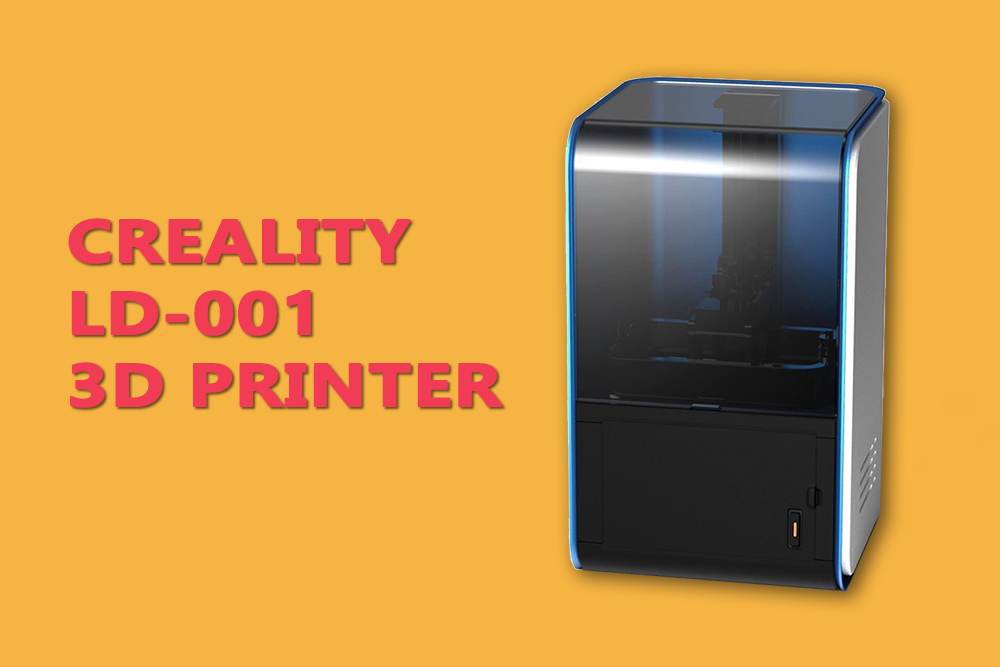 To fulfill the demands of the users, Creality has introduced series of 3D printers to meet the requirements and needs of the customers.
Here in this article, we are going to talk about the Creality LD-001 3D printer, which is unique in its own way. It has been among the top-rated printers of the Creality brand.
The best thing about the Creality LD-001 3D printer is that at an affordable cost, it gives you features and functions which you only see in lavish 3D printers.
Let us move on to the overview of this amazing Creality LD-001 3D printer and will see what are the main functions and features it offers for 3D printing users.
Features of Creality LD-001 3D Printer
Creality LD-001 3D printer is a well-known 3D printer due to its versatile features and effective results.
The best thing about this printer is that you have got all these versatile features at a very low cost as compared to other 3D printers. Below you will see a brief overview of some of the main functions and qualities of the LD-001 3D printer check also Tevo Tornado vs Creality CR-10S.
High precision prints
Among the first thing you notice in a 3D printer is the print quality; after all, accuracy and precision are what we all want to achieve in the end.
When it comes to Creality LD-001 3D printer, it offers exceptional quality prints with 20-micron layer thickness and a print resolution of 2560 x 1440 pixels.
It certifies that the print you will receive will be of exceptional quality with maximum accuracy and preciseness.
Easy to set up and install
Unlike other 3D printers, Creality LD-001 comes partially assembled, and it will take only a couple of minutes to make it ready to start printing.
Other than that, you will need to calibrate it as per your requirement of the project. After that, you can start printing right away.
LCD display
To make it easier to use for all, Creality LD-001 has an integrated 3.5-inch full-color touch screen, which gives you a real-time preview of the process and keeps you up to date.
With this, it becomes easier for you to search down your parameters and settings of the printer.
Offline printing support
Not only you can connect with Wi-Fi and Ethernet, but also Creality LD-001 3D printers allow you to connect it USB and mobile control.
High stability and quality are ensured no matter the connectivity. Other than that, it gives you 10GB of internal storage space for an easy and convenient printing experience.
Build volume
Creality LD-001 3D printer has a build volume of 120 x 70 x 120 mm, which is more than sufficient for most of the work.
Although the build volume is not as big as other Creality 3D printers, but you can design and build a large number of products suitable for Creality LD-001 with this build volume dimensions.
Portability and ease of use
Overall Creality LD-001 dimensions are 220 x 240 x 360 mm. it not only makes it easier to use the printer at any place but also it allows you to carry it anywhere with ease. Similarly, you can place and store it conveniently.
Print speed
As we know, the Creality LD-001 3D printer is famous for its accurate and high-quality prints, and preciseness requires working at a slower printing speed. Having said that, Creality LD-001 gives you a printing speed of 20 mm per hour.
Integrated UV lamp
Not compromising on print quality and to further enhance the efficiency, the Creality LD-001 3D printer has an integrated light source lamp beads with a wavelength of 405NM. You can expect the best print quality with this integration.
Versatile application
Despite the fact that it does not have a larger build volume comparatively, even then, Creality LD-001 3D printer is considered the best choice for many industries, including dentistry, architecture, jewelry making, gaming models and toys.
Slicing software
One of the most significant things to notice in the 3D printer is what software is used for slicing.
As far as Creality LD-001 is concerned, it used the proprietary 3D Creator Slicer, which is not only easy to understand but also gives you much faster speed than most of the other slicing software.
Automatic leveling system
Among the unique features of the Creality LD-001 3D printer, it has an automatic leveling system that ensures that you get the perfect quality print, and it should not be failed because of leveling issues.
You can also set it manually to meet your requirements for particular projects.
Other than that, a convenient refueling system, easy adjustment procedure, and quick screen change are some of the distinct features of the Creality LD-001 3D printer, which you may hardly find in any costly printers.
Conclusion
From the given specs and features of the Creality LD-001 3D printer, it seems to be a perfect model for creating small to medium size models and designs. Creality LD-001 has introduced innovative features to make the user experience friendlier.
With complimentary accessories and an easy installation system, you can start the printing process as soon as you get this printer.
But then again, it is up to you to choose the best 3D printer which can meet your project's requirement and conditions.